An Informative Guide To Obtaining a Work Licence
Are you facing the prospect of losing your licence due to driving under the influence of alcohol or drugs? Do you need your driver's licence for work? You may be able to apply for a work licence, but you need to be organised. Going to court without the correct paperwork in order will see you denied the opportunity to obtain one. Here is everything you need to know.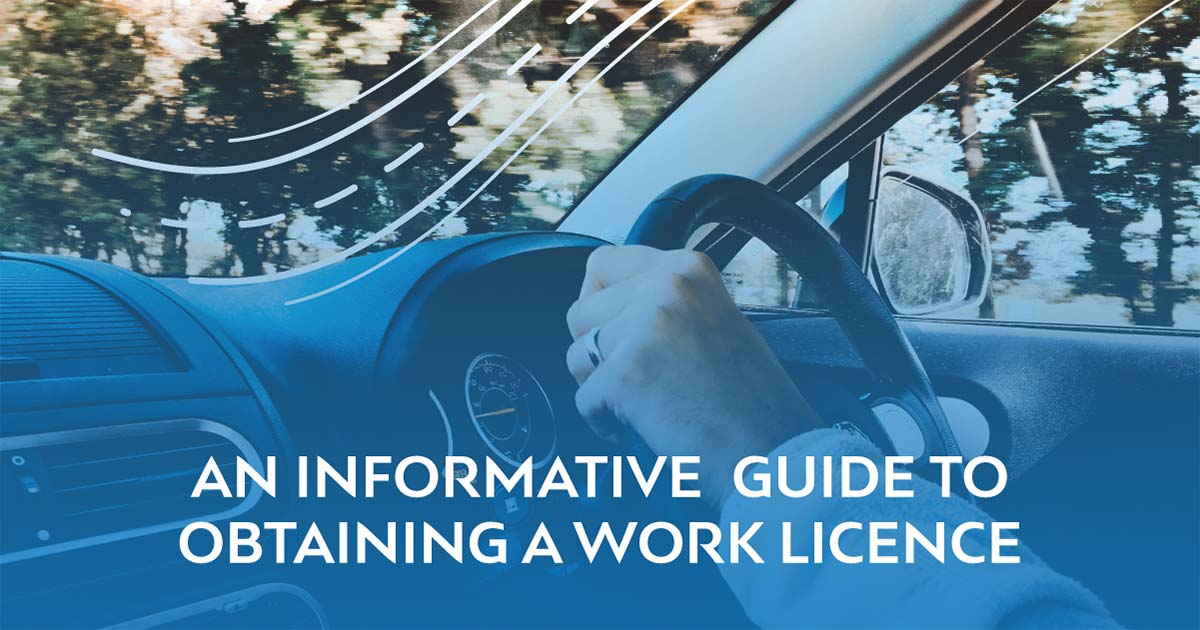 A work licence allows you to drive for work only so you can maintain employment during your disqualification period. This includes driving to and from work and driving for work purposes. If you don't have a job, you won't be eligible to apply. You must be either an employee or self-employed. A work licence can only be used for work, if you get caught driving and it isn't work-related, you may receive a larger fine and a longer disqualification term, in serious cases a jail sentence.
Can I Apply For A Work Licence?
Some strict rules apply when applying for a work licence. Don't make the mistake of thinking you'll be entitled to one just because you have a job, unfortunately, it doesn't work like that. To be granted a work licence, you must meet the following:
At the time of the offence, you must have had an open class C driver's licence that is valid.
You mustn't have a previous drink or drug driving charge against you in the last five years.
You cannot already have a work licence, commit a driving offence, and apply for another.
Your licence cannot be disqualified, suspended, or cancelled in the state of Queensland.
You must not have been charged and convicted with dangerous driving in Queensland in the last five years.
For drug driving charges, you must have been driving with said drug in your system, not driving under the influence of a drug.
For drink driving, your blood alcohol concentration must have been below 0.15% at the time of the offence.
Some Instances Where A Work Licence Will Not Be Considered
If you were caught with a high-range reading.
You held a provisional or learners licence at the time.
You were driving under the influence of a drug.
You were driving a truck or taxi and had a BAC of over 0%.
You were driving a prohibited vehicle on a provisional licence.
How Do I Apply For A Work Licence
To apply for a work licence, you will need to get yourself an application form from a Magistrates Court. It is called an Application for an Order directing the issue of a Restricted Licence (s87) (Form F3181). If you don't have this filled out ready to go on your court date, you can ask the Magistrate if you can have your case adjourned. If the Magistrate agrees to adjourn your hearing, you must fill your application out, file it with the court and give a copy to the Police Prosecutor before your next hearing is due to take place. The Magistrate will decide if you will be given a work licence or not. Sometimes drink driving charges are handled on the first court date although, more often than not, they are adjourned. You must apply for your work licence before you have been penalised, after that it's too late.
What About A Day Licence Or Restricted Licence
A day licence and a restricted licence are other terms used for a work licence. They are all the same. The formal term for a work licence is a section 87 licence.
Do I Need Any Supporting Documents With My Work Licence Application?
Yes, you do. It's important to have this organised to be eligible. Along with your application, you will need an affidavit from your employer. If you are self-employed, you will need to write it for yourself. You can pick up an affidavit form from any Magistrates Court. Your affidavit must contain valid points as to why you need a work licence, and it should be written in a formal context. Once you have your affidavit and application filled out, you need to file it with the Magistrate Court and the Police Prosecution Unit. It's best to do this as soon as you can.
Do I Need To Bring Anything To Court?
The Magistrate Court and Police Prosecutor will have a copy of your application however, you should bring along a copy and your affidavit just in case. You should have character references to support your otherwise good behaviour.
What Can I Do If I Am Denied A Work Licence
If you haven't been granted a work licence and you believe the decision is not warranted, you can appeal it. There are strict time limits in place for this and you should seek legal advice.
Dealing with a drink or drug charge can be overwhelming and extremely stressful. Losing your licence for an extended period can have huge impacts on your livelihood and everyday enjoyment of life. For this reason, it's a good idea you speak with a solicitor that specialises in this area of law to discuss your options. Having legal representation can increase your chances of receiving a lesser charge allowing you to get on with your life sooner. Our team here at Drink Driver Lawyer are experts in the field and can help you stay on the road.
4 REASONS WHY WE ARE QUEENSLANDS FIRST CHOICE:
Request Your Free Case Review:
Request Your Confidental, FREE Case Review