What should I be prepared for on the first court date for my traffic offence?
Going to court for the first time can be an overwhelming experience, and it's in your best interest to know how the process works and what to expect. This can ensure you are prepared for what's to come and put your best foot forward to achieve an outcome you are satisfied with.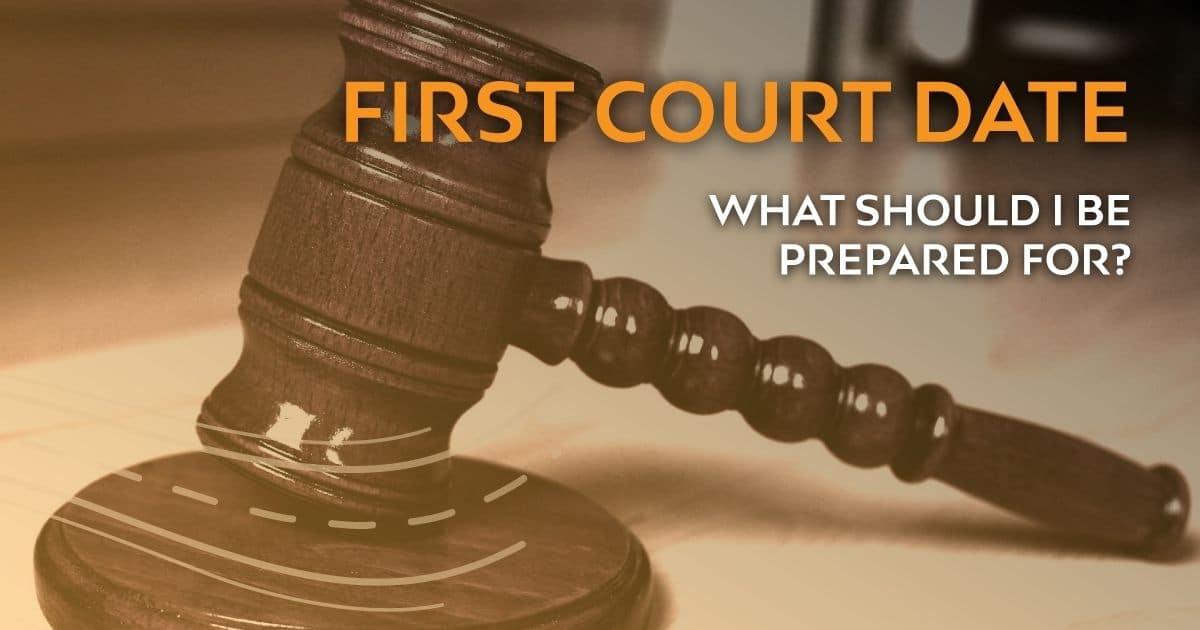 Check the details on your Notice to Appear documentation
If you are required to attend court for your traffic offence, you will be given a Notice to Appear. This will state the date, time, and location where your matter will be heard. On the actual day, you'll have three options available to you:
Request for your matter to be adjourned
Plead guilty
Plead not guilty
Here is a breakdown of each option to help you determine which is the best route for you to take on the day.
Requesting an adjournment is a sensible option for a variety of reasons including:
Not fully understanding the implications of your charge
Needing a work licence and not having your paperwork to do so 
Deciding to seek legal advice 
You have the right to ask the Magistrate for an adjournment. This will see your matter postponed, the average adjournment time is around two weeks and it allows you to get organised before your next court hearing.
If you are going to plead guilty and choose to do it on your first court date, the court will generally finalise the matter then and there. Upon pleading guilty, you will be convicted, and your penalties for your traffic offence will be imposed effective immediately. These will be in place until the stipulated date outlined by the courts, i.e., driving disqualification period. This means you will not be able to drive home from court, so ensure you make alternative arrangements for the day.
Once you have pleaded guilty, you cannot change your plea. If you try to, it is unlikely that the Magistrate will adjourn your matter. It's a good idea to seek legal advice or do your own independent research first, so you know what kind of fine, disqualification period or penalty you are most likely looking at given your charges and to prepare yourself for the outcome.
If you are facing a serious charge such as a mid-range or high-range drink driving charge, and you have been without a licence, adjourning your court date can see you without a licence for longer. By pleading guilty from the get-go, your official disqualification period commences immediately.

If you believe you have a defence for your traffic charge and decide to plead not guilty, it will be up to the court to determine whether you are guilty or not. This is done via a trial, aka a summary hearing, and the process is much more elaborate and time-consuming. Here is what happens when you have a summary hearing for a not guilty traffic plea:
Calling evidence
Obtaining and listening to witness statements
Submissions from relevant parties
Cross-examination
This will occur at a subsequent hearing at court. It will not happen on the first court date. Summary hearings typically get adjourned for 2 months, sometimes more.
It's important to know that there are very limited circumstances where a defendant will have a valid case for a not guilty plea. Pleading not guilty and then being found guilty by the courts usually carries serious charges. Always seek advice from an experienced traffic lawyer if you are considering this plea.
Your first court hearing gives you the chance to notify the court of what your intentions are for dealing with your traffic charge. You do not have to proceed with a guilty plea on the day if you wish to plead not guilty, to organise paperwork, or to seek legal advice. A lot of traffic offences are considered serious here in Queensland courts, and you must have everything in order when you need to.
It is always a good idea to seek legal advice on your matter. This can equip you with the right information, and you can be informed on how best to proceed with your matter.
What to look for in a traffic lawyer
When appointing a legal professional to assist you with your traffic charge, you should hire a solicitor that works in this area of the law. Road-related rules and regulations are constantly changing, and the solicitor you choose should be across the latest traffic laws. It is smart to seek legal advice as soon after your charge as you can. This gives your solicitor adequate time to outline your options and to get prepared for your matter to be heard in court. If you were wanting a work licence, this needs to be sorted out before your court day and allowing enough time enables you to get this organised. The same applies to gathering supporting documentation such as character references or enrolling yourself in a traffic offenders program if need be.
If you are looking for an expert traffic lawyer to represent you here on the Gold Coast, look no further than our team here at Drink Driver Lawyer. We specialise in traffic law and can help you navigate your way through the court process and fight for you to achieve the best outcome attainable. Contact us today to find out more.
4 REASONS WHY WE ARE QUEENSLANDS FIRST CHOICE:
Request Your Free Case Review:
Request Your Confidental, FREE Case Review